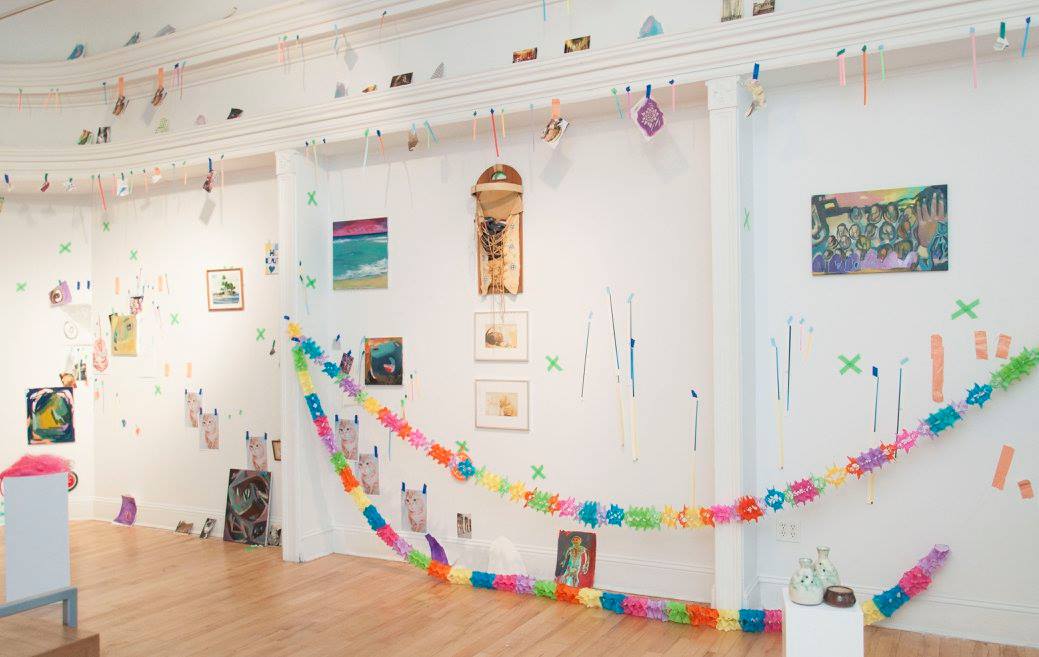 Amy Wong's The Art of Hanging Pictures
Katie Belcher is an artist, curator and the director of Eyelevel Gallery in Halifax. Established in 1972, Eyelevel has been programming outside the structures of a permanent gallery space for the past three years. We spoke with Belcher about what it's like to operate an artist-run centre without a long-term space.
What prompted Eyelevel to become a spaceless gallery?
Eyelevel went spaceless in 2013. I was hired that year and it had been on the gallery's radar as a possibility for some time. It was definitely something I was really interested in for its artistic potential. The move to this model was also the result of a decision to allocate more of our operating funds towards our program, staffing and operational expenses than to rent.
The spaceless model is more reflective of the type of work we'd been showing for most of our history. It particularly allows us to respond to contemporary practice—performative, installation based work. We had regularly done projects off site before, so it just made sense with the way our programming was going.
Has a lack of permanent space changed Eyelevel's artistic identity?
Rather than a change in our identity, it just sort of solidified some of our history. We were founded in 1972 as Inventions Gallery. It was founded by a group of women artists to address that they weren't really being exhibited by other institutions. It was at a time when other artist-run centres were cropping up all over the country to show alternative work. From the very beginning, we existed to question and disrupt and present an alternative. Currently, contemporary artwork doesn't only exist within four walls. It's possible to have really revolutionary, disruptive exhibitions within that context, but it's not the only way to do it.
We've had growing pains. It's been three years of really testing it out. But for us, the move to this programming model has really solidified our interest in research based practices and projects that question accepted modes of presentation. It's reminded us of the importance of creating partnerships and accessing a broader community, crossing disciplines, which many artists are dissolving in their practices anyway, and just being able to be responsive to changing practices.
What have been the biggest challenges of running a gallery without a permanent space?
My hope is that any artist-run centre with this type of mandate would be able to do this with a space. I'm not suggesting we not have brick and mortar galleries. The challenge of programming this way has really meant that everything is up for grabs for us. We're questioning who isn't being shown by us, who we're not reaching, what kind of space we rely on, what type of resources we need. It created a disruption in our mode of presentation that meant we looked back at why we existed, we looked at the most exciting projects we've done and we started to question what's working and not working in a really rich way.
We do have some pretty practical challenges. Maintaining a sense of community without a gathering space has been really difficult. When people don't have a regular place to drop in on, we're not people's on radars or routines. We're trying to address that through alternative projects. We have a picnic project we ran last summer where we were facilitating activities gathering outside a space. Transportation is also issue for us, but it's an easily solved issue. One thing about the change in model or any kind of problem, is that if you look at it from a different angle, your challenges may be fixable. I use CarShare and I couldn't do this job without it.
Sometimes finding the right space can be a challenge but that is coming with time. We're three years in, in our fourth year now, and we have a much better sense of the kind of work we're interested in and the kind of spaces that are available. That all just comes with trying something new.
What are some of the most memorable exhibits that have been facilitated by the spaceless model?
Looking back at our history, a lot of really successful projects took place within that model even when we had a space. Before we made this move, Eryn Foster had initiated a project called Wilderness Acts that took place in Kejimkujik National Park. Michael McCormack and Michael Eddy did a project called World Portable Gallery Convention, which sent these people who ran portable galleries all over the city.
Since the model changed, the first one we really took on was one of the strangest. I rented a hatchback for a month and toured our printed matter program around the Atlantic region, setting up in each artist-run centre.That was really a study in labour and leisure. It felt very much like work and very much like a vacation for the month. We took the idea of being spaceless and looking for a space in the city and thought, "Why does this have to be in Halifax? We really have the possibility to go anywhere."
I'd say for me, one of the most recent most memorable projects was anna sprague did an artist talk as part of our Food for Thoughts series. We had two this summer: anna sprague's and Amy Wong's. anna sprague's just disrupted things quite beautifully. She took us on a walking tour through Point Pleasant park and it was very experiential by comparison to sitting in a space and listening. Everyone was engaged in these various mini versions of her performances. It was kinesthetic. People were listening in a different way than we normally get to listen. Amy Wong's artist talk had a limited audience and we were able to prioritize attendees who identified as women of colour, which was really important to us. It was an intimate, domestic event that privileged marginalized voices.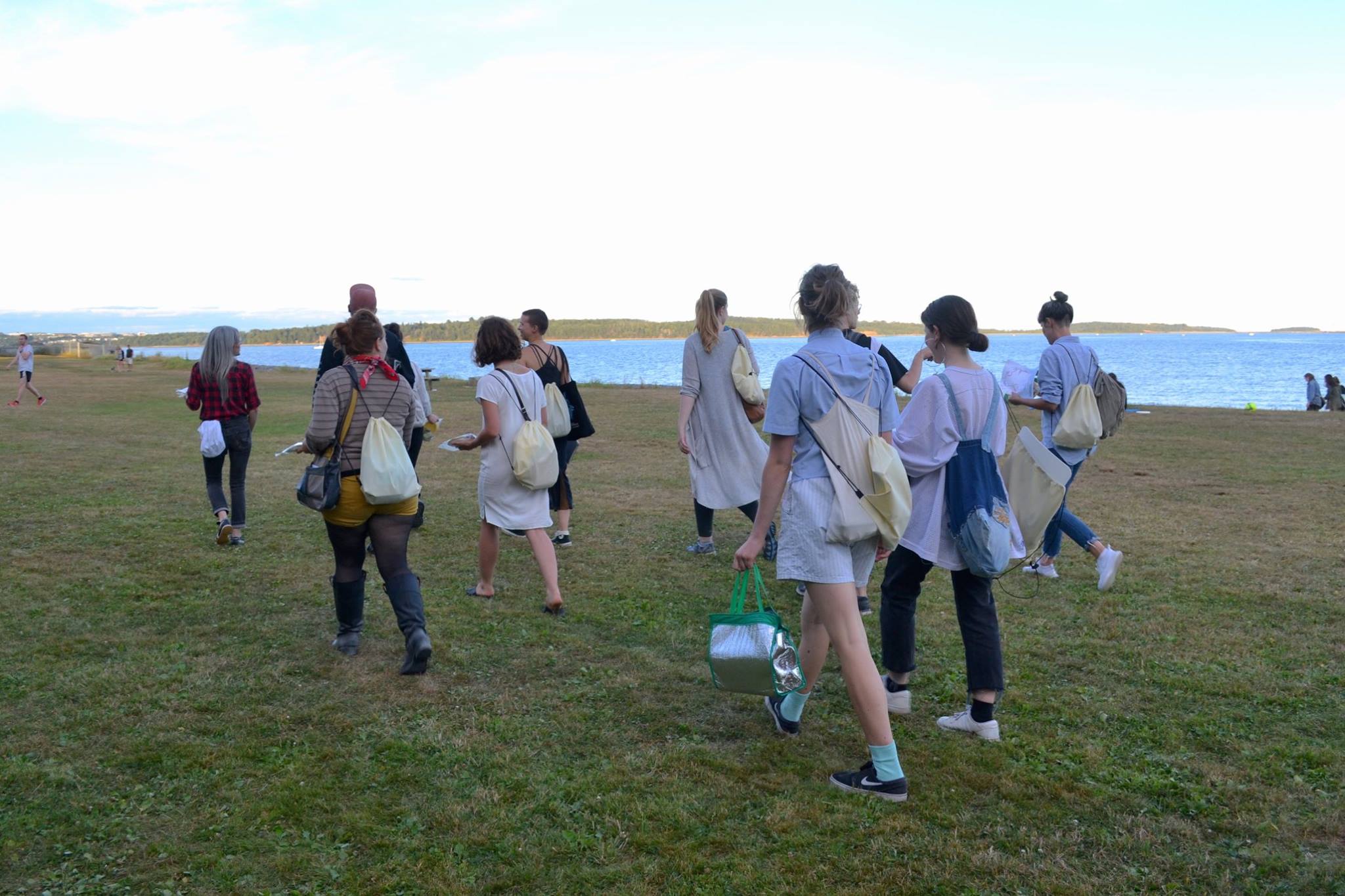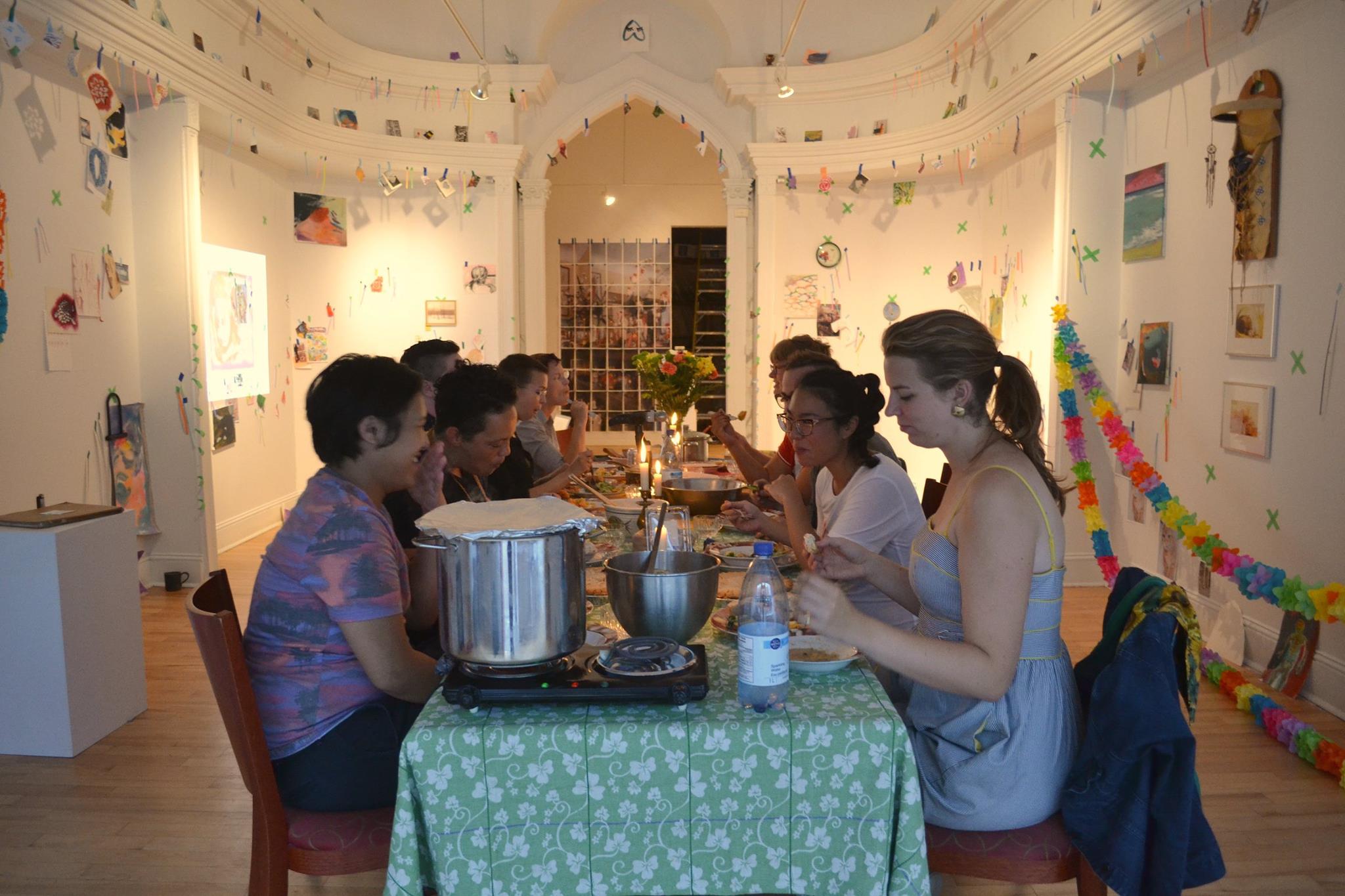 You also have the printed catalogue and artistic document Sitelines coming out.
It will be out in 2017. It's been a very quiet project, but I think it will have quite an impact when it's printed. We commissioned artists and writers to contribute to texts and projects that dealt with site in some capacity. There's quite a range in how people address this. We also use it as an opportunity to have case studies about the types of projects Eyelevel's been doing in this model.
Ultimately, printed matter is a large component of our program. A publication is a siteless structure in and of itself. It can move, it can be sent at quite a distance, it can be presented online, it can be held. There's something about making an actual book that's important about this new model as well. It's a remembering that we can occupy a physical occupation in a different way.
Do you hope to take up a permanent space in the future or is the current model ideal for Eyelevel?
It's not currently a goal of mine to have a permanent gallery space, but a hybrid model would be ideal for me. I love the idea of running Eyelevel's projects from a central space that acts as a gathering space for community. Ideally for us, that would be maybe a spacious office, expanded bookstore, and a flex space that could be used as studio to exhibit members' work. I think there's a lot of potential for us partnering with other organizations to make that happen, less so than hunting for the next white cube.
~
~