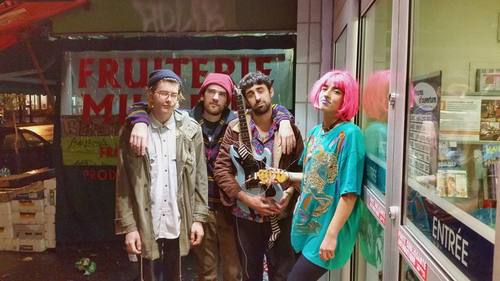 Cheap Wig
Cheap Wig (Samantha, Oliver, Tristan, and Bryce) was on an east coast tour with other sick band Ursula last weekend. We spoke with Samantha and Tristan. Here's what they're up to:
You seem like you have a lot of rage. Do you have a lot of rage?
Samantha/Tristan: Haha, I think we have a healthy level of rage within us. There's a lot to rage about. It serves as our fuel and I think it manifests (for the most part) through productive and creative means. Cheap Wig is an outlet for all of us, and without hard feelings (including rage) there is no passion, so we welcome it. We're not angsty or rude though, I'd say we're generally pretty approachable if you are a respectful person.
Your tag on bandcamp is "postwhocares shrugcore" and on facebook it's "hyperreal, feminist postbrowave, post spunk, postpost, queerglam, vomatrocious" – hilarious, but what?
Samantha: The tags are sort of just poking fun at the idea of tagging music in general. I (Sam) wrote those tags and I don't actually have the knowledge/interest/time to carefully pick out the intricacies of our sound and position ourselves into a cluster of genres. I guess if we ever micro make it, Pitchfork can do that for us. I think "post who cares" and "shrugcore" are literal manifestations of this feeling.
"Post-Bro Wave" is kind of like my way of implying that we're making music which has no room for bro culture. Queer Glam is pretty literal but we're glamorous in a sort of low-budget low-fi kind of way, just like a Cheap Wig. I think that in all endeavours and utterances it is important not to take yourself too seriously because it will constipate you.
Tristan: I would say it is somewhere in between silly and serious. Some songs have intense lyrical content that we want people to reflect upon, and in those songs the music is generally dark, but I think we also want try to nourish our love for left-field weirdo musicians like Nina Hagen, Klaus Nomi, Grace Jones, Gina X where the vocals are very theatrical and exaggerated, and the music is playful but not cheesy. We chose a name like Cheap Wig so that we wouldn't be pigeon holed as some super serious pretentious punk band. Instead it's colourful, whimsical, and also can be trashy and dirty, which is what we want our music to sound like.
I'm curious about what your relationship to it is… is it a lot of joking around, or are you really trying to say something, or is it somewhere in between?
Samantha: I honestly take it as seriously as I possibly can without rendering myself too vulnerable. I cant write songs about nothing because then I wouldn't care to sing them. The way we make music at jam is very democratic and it always feels like we're genuinely in it. Tristan, Bryce and Oliver are so good at creating music which evokes a very strong emotionality and my lyrics really flow with the vibe of it all. We all contribute to the overall 'seriousness' of a given song in a case by case basis. On that note, humour is so important to all of us in general. Were all the type of people to deal with most difficult situations through downplaying it, being self deprecating or making jokes about our pain so it's actually virtually impossible for any of us to act completely serious even if we might be talking about/dealing with ~real shit~. When I'm not singing about issues pertaining to misogyny, queerness or feminism, it's still always stuff I'm passionate about such as in "Soft Murder" which is a song about photographs as memento mori, inspired by Susan Sontag's "On Photography", or songs about self love as an act of resistance in "Overflow". I think our 'un serious' approach to life creates a good balance with the serious nature of our songs.
Do you feel involved with the music on a political level? Is there a story behind your lyrics?
Samantha: Yes. Our songs are an outlet to talk about feminism and frustrations with our social condition with over arching themes related to sexism and struggles related to femininity, eating disorders and fat phobia. For example, our song "Sieve" (the one with the slow build up) is based on the painting The Vestal Virgin Tuccia (circa 1555) by Giovanni Battista Moroni. In the painting, The virgin Tuccia is pictured holding a sieve through which water does not pass to symbolize her virginal purity. The air tight sieve has been used in paintings of that era multiple times as a symbolic object of the perfect woman; one who does not transgress her boundaries, who is quiet and contained, who does not leak or drip through any orifice.
The song speaks about street harassment and the notion that women exist for the viewing pleasure of men and the frustration with the entitlement they feel they have to cat call us and, further more, the shock and disgust that comes over them when the women they cat call decide to give them a piece of their mind instead of holding in their rage (there it is again… RAGE) in hopes of not exacerbating the situation. [To get an idea… ]
So why
Don't I
Spell it out for you:
Yeahh,
Hey baby,
Hey baby,
F, U, C, K, Y, O, U
Ohhhhh no,
You weren't expecting that,
Were you?
Cause I was totally
Put on
To
This
Godforsaken
Earth
To shake my ass and fuckin please you
And now, I'm such a slut because I teased you?
Well I'm sorry,
Real sorry. You see,
I didn't have much to eat
Today
But it was a little
More than yesterday
But my body's a little sore
Because the media chopped it up
While I sing about personal experiences and the things I deal with in my own day to day life, it is with a very conscious understanding of my level of privilege as a queer, white, cis-gendered, feminine presenting woman (and my band mates as white cis gendered men) and everything that comes with that. I only feel comfortable writing lyrics based on personal experience, and although my (previously mentioned) rage is also directed towards racism, ableism, and transphobia in our society, those are not my personal struggles to write about. I am always reflecting upon these issues, and my solidarity with folks who find themselves in less privileged positions than me (based on fucked up social hierarchies) is a constant fuel to the music and in this way it is always political.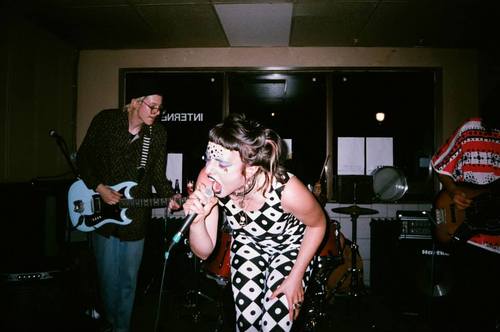 Do you vibe off the crowd? What's your performing experience like? Sam, you get really up close with the people standing in the front row. What are you up to? Looks like a lot of fun – what do you want to leave with the people who come out to your shows?
Samantha: Haha, yes the crowd can sometimes be the sole thing that makes or breaks a set. I really like to get close to people and make them feel like we are performing specifically to them which really makes every show unique because their engagement counts as such a huge part of it. I think when I get close to people, the part where I'm "less serious" really comes out as I become sort of playful with the audience members as I pass through them. The reason it looks like a lot of fun is because when the crowd is right, there is literally nothing I'd rather be doing than performing for them. I think I speak on behalf of the whole band when I say there is no greater pleasure than playing shows for people who are happy to be there. I'm also a Leo (guilty) so when people approach us after shows with compliments and positive feedback, I'm swimming, and I feel like we were successful in our performance because people seem really grateful to have seen it (which is totally fuckin mind blowing cause we're huge dorks).
Your lyrics are wild—do they take a lot of thought, or is it more sort of whatever comes to mind, whatever you're really feeling or thinking in that moment?
Samantha: I guess my process is the 3 way love child of a dramatic journal entry, a specific mental picture, and a shitty high school poem that your mom said was really good but your teacher told you to try again so then you do.
What are you listening to today? Influences?
Tristan: The music that we are listening to at the moment is quite diverse based on each member of our band. Generally we can all get behind some sweet bands going on in Montreal; Sigh Down One, Lungbutter, Moss Lime, Fakes, Gashrat, Aunty Panty, Vibe Wrecker, Pelada (to name a few, there is so much local talent here it's actually unreal). We also dig the classics and take some textural influences from older acts such as Sonic Youth, disco legend Amanda Lear, Bryce just showed us Christian Death who I think we will be obsessed with soon. We also listened to Goin' Up on a Tuesday by iLoveMakonnen and Drake at least 15 times on the way to and from Halifax.
Samantha: My vocal/aesthetic heroes are Kim Gordon, Grace Jones, Mariska Veres (of Shocking Blue), Nina Hagen, Nico, Gina X, Divine and Sue "Su Tissue" McLane of Suburban lawns.
What's the scene like in Montreal? Collaborative? Did you get a sense of what its like in Hali? Different? Similar?
Tristan: Based on the bands we played with, the scene in Montreal is similar to Halifax, musically, but I would say that there are a ton more groups in Montreal (which is an obvious result of a bigger population) and there are several different organizers who put on a series of shows that sort of pertain to specific genres. Sam and Frankie are organizers under the name Slut Island and they are throwing some really amazing shows focusing on women and or/queer and or/feminist artists doing great things.
Samantha: There is a lot of collaboration and support in the MTL music scene. A good example is the Montreal based record label called Misery Loves Company who have released a series of split tapes (with another one on the way!) which literally gets local bands to work together. Slut Island has been slowly building a sweet community of rad people resulting in a network of folks who are ready to collaborate/work together on projects, shows, tours, etc. and it's a pretty remarkable thing.
You just finished your first east coast tour together with Ursula—thoughts? Fun? You played a show @ Menz—how was that? Different scene//feel then the show you played the next night @ RADSTORM?
Samantha: The east coast tour was overwhelming in the best way. Playing in Halifax and Sackville after being accustomed to Montreal shows was a really refreshing change. We were so well received by the crowd and when we arrived at Menz bar after a 15 hour snow storm drive from hell, I felt like we couldn't have asked for a better landing pad. It had such sweet Liquid Sky, David Lynch, psychedelic freaky freak vibes that evoked anaesthetic similar to the oneCheap Wig is going for. Our main babe Cooper set it all up with her friend Magnus and also DJ'd the closing party of the show. The night was the first of a series Cooper and Magnus plan to continue called Crystal N.R.G., so stay tuned for the next one!
The next night, Cooper and Emily of Shag Harbour (check em' out!!) put together an all ages show at Radstorm and it was so special to be able to play for and talk to young queers. All ages shows are pretty uncommon in Montreal and it was the first one we've ever played and Halifax is definitely doing something right.
~
~