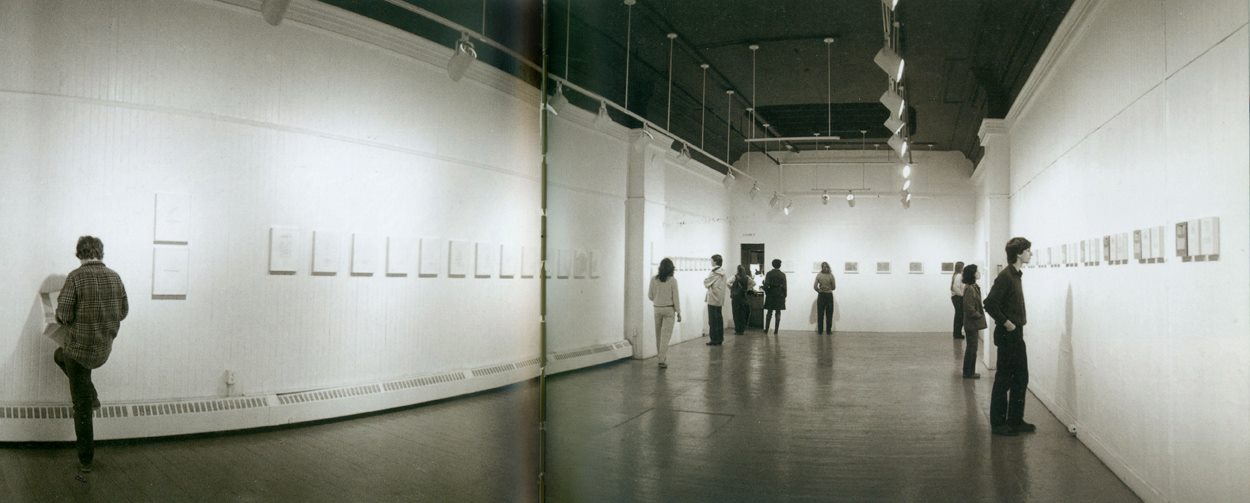 Anna Leonowens Gallery, 1981
The Curating Parallels exhibit at the Anna Leonowens Gallery explores the process of constructing collective and individual identities. It features recent work by NSCAD faculty and was curated by students participating in Dr. Carla Taunton's curatorial studies seminar.
We talked with one of the exhibit's student curators, Emma Steen, who was speaking on behalf of / in consultation with her co-curators. Emma studies art history at NSCAD. She once told a spider that she "never forgets a face."
AA: What do you explore in the museums and curatorial studies seminar?
ES: Carla's course is a study of the broad idea of 'The Museum' as well as critical thought in regards to curating and exhibition. e.g. How the museum's purpose has evolved, how museums and galleries effect how different art practices are portrayed and viewed by the public, and the importance of galleries and museums as public and educational spaces.
AA: What's the theme of Curating Parallels? How did the curation group decide on it?
ES: The focus of the exhibition is NSCAD as the foundation. All the artists are profs here so they share this space together as well as share the role as Teacher. There was a lot of discussion about that, the role of Teacher while us as Curators are all Students, and how that dynamic can parallel the roles of Artist and Art Historians/Curators.
AA: Quite a few people are responsible for putting on this show. What was the collaboration process like?
ES: Though collaboration can be difficult in any form, especially in a group as large as this, working with so many talented, smart and eager people made the process really enjoyable and continuously educational. Many hours were spent discussing the show itself and the installation of the show was definitely where collaboration became the most vital element. The people who worked on this show (curators/artists/helping hands) allowed for Curating Parallels to be a collaboration in its more honest sense. It's amazing what can be accomplished when you put so many capable people together.
AA: Without giving too much away, what can visitors expect to see at the gallery? What perspectives are represented? What mediums are used?
ES: A variety of mediums (print, sculpture, process, non-traditional painting, film, installation). They can expect to see a wide range of talent that NSCAD offers and produces in both faculty members whom are practicing artists, and in the students who are learning how to collaborate and curate such a diverse show.
AA: What's the hardest part of curating an exhibit?
ES: The hardest part of curating is the problem solving involved. You don't realize how many small details there are that make a big difference, and how many things can go wrong just when you though you had everything worked out. As well as the difficulties that come naturally from working with so many people. It is almost impossible to avoid bumps while trying to find a balance between representing everyone involved in their best interest while having to work within a specific/limited space.
AA: What have you found most rewarding?
ES: As I mentioned earlier, I got to work alongside some incredibly talented people. I would say that the most rewarding part is being able to look at this experience and know that I have honed new skills and have been able to grow in many ways, most of all as a Curator. What I was able to gain from all the people who helped make Curating Parallels happen is something I am truly appreciative of, even through the most stressful and exhausting of times.
AA: Is there anything in particular the group hopes visitors take away from their interaction with the exhibit?
ES: We hope visitors will be able to take away a better view of the well rounded education and educators that NSCAD offers as well as a refreshing outlook on different art practices (since some of these artists do not work with materials or showcase in a traditional way).
---
Curating Parallels is on display at the Anna Leonowens gallery October 31 – November 8. There will be an opening reception for the show on Thursday, November 5th @ 5pm.
~
~