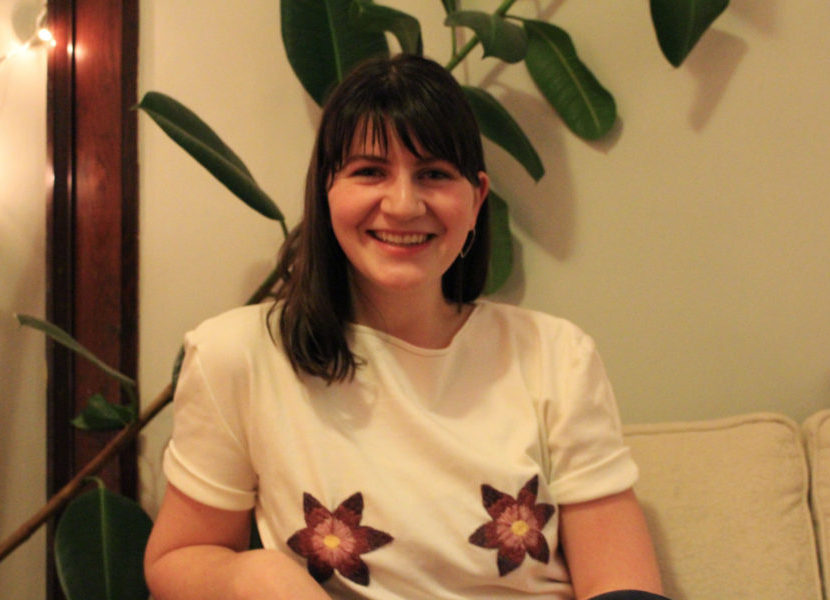 Brianna Dunn on embroidery and valuing her time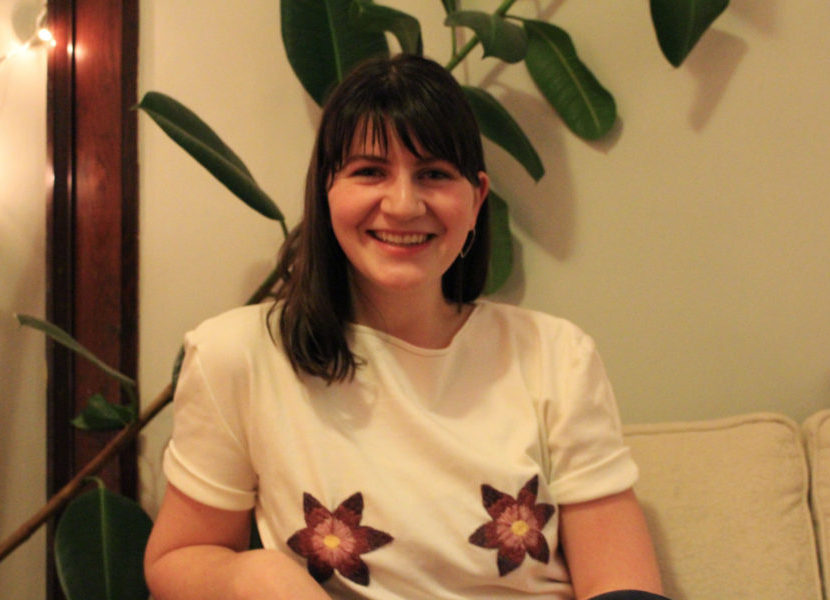 You may recognize Brianna Dunn as one of the Galley's fashionable baristas who serves up coffee and grilled cheese sandwiches—and if you're so lucky, you may also have one of her custom-designed embroideries.
"Everything I make is one-of-a-kind, colour-wise, shape-wise, and whatnot," says Dunn. "That's what I like about things that are handmade."
Brianna Dunn is a third-year Contemporary Studies and English student at the University of King's College, originally from Ottawa.
Last month she announced that she's now selling her one-of-a-kind designs on t-shirts, tote bags, and notebooks.
When Dunn was younger, her grandmother taught her to knit. Dunn says she'd cyclically "learn and forget," that is, until she joined her elementary school's knitting club.
"I'd knit something and then tear it apart…I always needed something to keep my hands busy," says Dunn. "I like the process more than the finished product."
Since her knitting club days, Dunn has fallen in love with embroidery. She started teaching herself how to embroider last fall, and likens it to meditation.
"It's really peaceful, and then you can also make a product—which is awesome," says Dunn. "It's super personal to make something for someone."
In September, Dunn inherited her mother's old sewing machine. She says it's made her hobby much less expensive, as she can create shirts as well as the designs she embroiders on to them.
She's taking commissions from anyone who inquires, but says she's mostly embroidering for friends—which for her, is the best part.
"It's really sweet to do that for someone—it's really special," says Dunn.
Designing and embroidering specialty items has brought her closer to the friends she creates them for. Her most recognizable design is by far her cheekiest.
"One flower's boring, but two? I can put them on nipples and then that's fun!" says Dunn. "I just think they're funny and lots of people liked the idea."
Dunn says she's learned a lot from artists she follows on Instagram, who post embroidery and stitching tutorials. While honing her technical skills, Dunn says she's learned how much time good work requires.
"I never realized how long it takes to make something that's completely handmade," says Dunn. "I have so much newfound respect for every artist and craftsperson, it's just incredible—I never want to question prices on anything ever again."
Especially now that Dunn is on the other end of the exchange, she often feels unsure when putting a dollar amount on her work.
"It's super gross to have someone question the value you've put on your own time, and tell you your time isn't actually worth as much as you think it is" says Dunn. "But, I doubt that people are coming from that place—they just like things that are cheap."
She says it's not fun when people try to barter prices down, but Dunn understands handmade products are expensive.
Nearly all of her commissions have been for family and friends. Dunn hopes she'll soon be able to embroider and sew items at a consistent rate, so she can start making money.
"Ideally, I'd like to have a small inventory—I guess that's the next step I'd like to get to," says Dunn.
---
You can keep up with Brianna Dunn's work and request commissions by following her on Instagram.
~
~