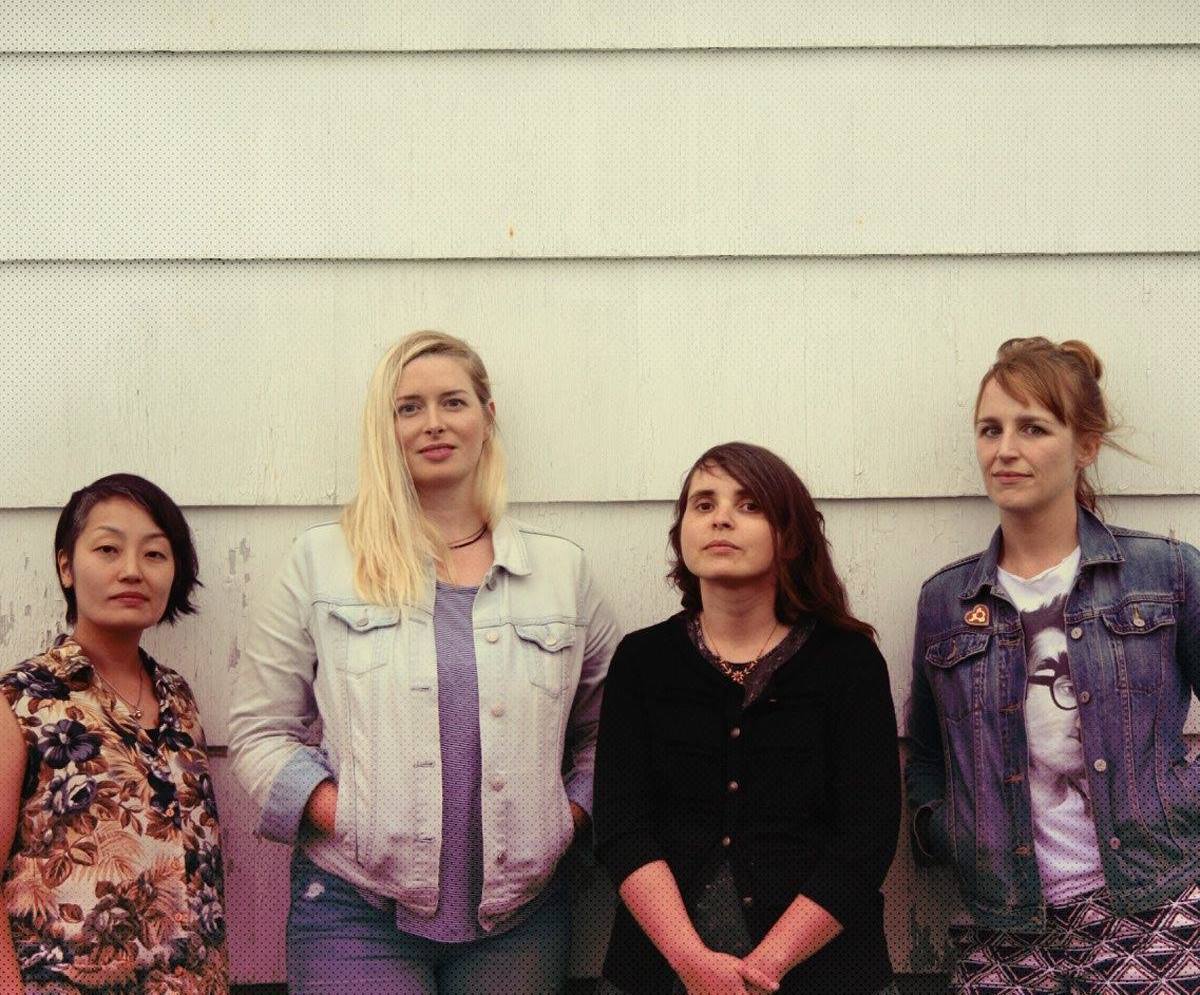 Not You © Seth Smith photo, Meg Yoshida design
Not You is a new group comprised of local power houses Nancy Urich (Dog Day, The Burdocks) on guitar and vocals, Rebecca Young (Pastoralia, The Got to Get Got) on bass and vocals, Stephanie Johns (Moon, Stolen Minks) on guitar and vocals, and Meg Yoshida (Bad Vibrations) on drums. The post punk group combines haunting vocals that sit on top of dirge-y yet energetic melodies. They've only released one song online, but already have plenty of buzz.
The Arts Abstract talked to Rebecca Young about managing careers, music, and children.
GS: How did this band come to be—did you come together to accomplish specific goals, or fill a specific void?
RY: Nancy started it. Steph and Meg were next and then they asked me to play along. We are all old adults with careers and people who need us, so as far as filling a void I would say that band time definitely holds a special place in our schedules to balance all the other stuff out.
GS: Not You is like a supergroup—you're all seasoned musicians who have played in multiple really great bands. What's it like for you guys to be playing together—do you freak out for each other's talent all the time?
RY: I can only speak for me but I know I'm in awe of everyone's refined talents. Band practices are held in a seaside house in a basement with a woodstove, which seems cozy (and it is) but the rehearsing is airtight because we are all so busy with jobs and families. It is literally nothing like any previous bands I have been in. No fights, no passive aggressive garbage, and there are a hell of a lot of encouraging convos and major supportive attitudes from each other.
GS: Tell us about your collective songwriting process.
RY: I'd say that Nancy is the driver—so far the songs are of her mind's ambition. Meg, Steph and I add in our skills, and then it's pure magic, of course.
GS: Are you planning a record or tour that we can look forward to?
RY: We are playing a few shows this fall, then it's back to the basement jams and recording times to get us through the winter. We would love to tour, although we will need a ride along nanny to wrangle the three small children that will have to come along.
---
Check out Not You tonight at 11 PM at The Seahorse with Crossed Wires, The Yips, and White Lung.
~
~